Researcher Elwin Alberda of Polytex on Chemeter:

"I hardly used the excellent support!"
Polytex Enviromental Inks is a global leader in innovative research and development of specialty waterborne and UV/EB inks, coatings and digital primers for a wide range of products. Polytex supplies manufacturers of wall coverings (wallpaper), window fashions, flooring and floor coverings, personal care products – think diapers – and a variety of printed materials.  <Read More>
XMILE International about Siam:

"Both the software and the support are top class"
Director Boudewijn Sanders is an entrepreneur pur sang. After his underwater engineering training, he started his own offshore company almost immediately. Inspection and repairs to seagoing vessels, as well as saturation diving at greater depths. Initially he went into hiding himself, but with the growth of his company, the emphasis shifted more and more to management and acquisition. After he sold this business in the early 1990s, he became involved in various land development projects and the construction of hotels, apartments and villas in enchanting Dalmatia, Croatia's southernmost province.
Around 2007 he became involved with the company XMILE. A company that started around 2005 with the original goal of making shipping more environmentally friendly. The product XMILE is now also used in fuel for cars, trucks, agricultural machines and for other purposes. <Read More>
KAM Manager & REACH Coordinator René Engbers:
"Preparing, printing and sending an MSDS is arranged in an instant with Chemeter"
Bleko Chemie has been developing, producing and supplying chemical liquids since 1934, mainly for the consumer market. The company's distinctive strength lies in its high-quality and innovative products and flexible, reliable service. Bleko Chemie offers a wide range of chemical products both under own brands and for private labels.
As a supplier of hazardous chemical substances, Bleko naturally takes the greatest possible care with regard to the safety of users. Consider, for example, the careful preparation and presentation of Safety Information Sheets and labels that comply with legislation and regulations. <Read More>

Chemical engineer Diana Kharina from Matrix Specialty Lubricants BV:
"Chemeter helped us become 100% CLP and REACH compliant"
Diana Kharina from Matrix about Chemeter and SdSArea – Diana Kharina was born in Russia. But when she was nine years old, she moved to Portugal with her parents. After graduating from high school, she chose to study chemical engineering. For her master thesis she could go for research at the University of Lisbon or for a company. She chose the latter and searched the Internet. She found Matrix Specialty Lubricants in Duiven. She originally came to this company for six months to write her thesis. But after completing her studies, Matrix offered her a position within the company. And she said to herself, "why not? Let's try. "That was two and a half years ago." <Read More>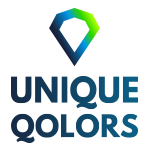 Director Owner Tim van Schijndel of Unique Qolors:
"In the US it has to be 100% according to their protocol and with the support of Chemeter I can also comply 100%."
"What I also discovered thanks to Chemeter is that my suppliers have absolutely no knowledge of exports to the US. They say: "You have received a safety data sheet from us. Isn't that enough? " Yes, but not if you are exporting to the US. Then that sheet must comply with US legislation. So GHS. In the US it must be 100% according to their protocol. With the support from Chemeter and the support from the US – which is also very good – I can also comply 100%. " <Read More>